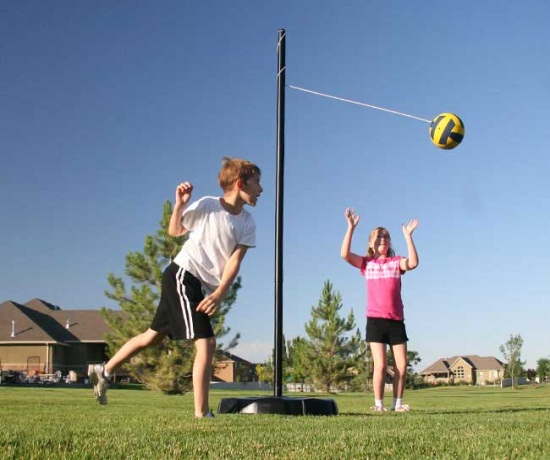 11 Jan

Portable Tetherball Set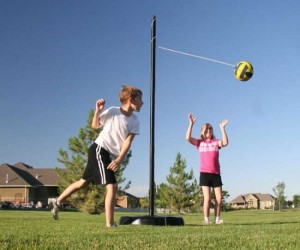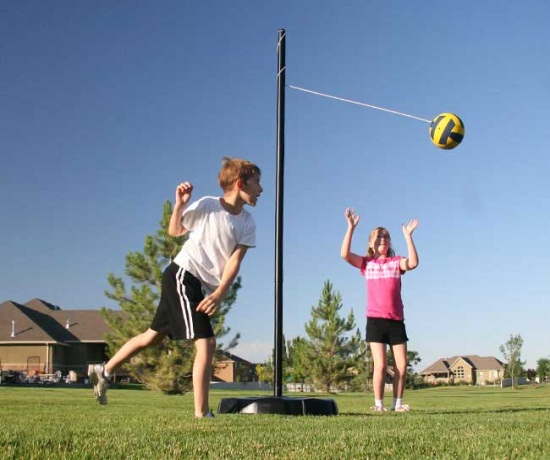 Portable Tetherball Set with Extra-Soft Tetherball (Black Pole)
Lifetime's tetherball set has one of the softest tetherballs you can find! Now you can bring the tetherball game to your backyard with Lifetime's portable tetherball set (includes tetherball pole, base, tetherball, rope, and tetherball equipment). Tetherball pole is compatible with most deluxe tetherballs and competitive tetherballs.

Description:
Gone are the days of playing Tetherball exclusively in the schoolyard. Now the whole family can enjoy professional playground equipment in the safety and convenience of your own yard. Our portable tetherball system provides your family with a lot of fun in a small amount of space. This system is designed with a convenient portable base. Just fill the base with sand or water and you're ready to play.
Lifetime's Tetherball System is engineered with heavy-duty construction for high-performance play and a soft-surface ball for safety. The Tetherball System features a rust-resistant steel pole with a portable base constructed of high-density polyethylene (HDPE) that won't crack, chip, or peel. Built to last, this tetherball system will entertain the whole family for years to come. Made in the USA.
Features:
8 in. Softplay Tetherball
2 in. Powder-Coated Steel Pole (Black)
72 in. Nylon Cord with Steel Attachment Hook
30 in. Heavy-Duty Portable Base Can be Filled with Sand or Water
12 Gallon Portable Base is Constructed of High-Density Polyethylene (HDPE)
5 year Limited Warranty
Specifications:
Model Number: 90072
Material of Construction: Heavy-duty, weather-resistant powder-coated steel and high-density polyethylene (HDPE) plastic
Dimensions: Steel 3 pc. pole is 96 in. (2.4 m), round portable base is 30 in. (76 cm) diameter, total height of system 8 ft.6 in. (2 m)
Features: 8 in. (20 cm) soft-touch regulation size tetherball, 72 in. (1.8 m) heavy-duty nylon cord with steel attachment hook and portable base that fills with sand or water
Age Recommendation: 4 yrs. and older
Warranty: 5 yr. for pole and base, 90 days for ball, chord, and clasp
Packaged Dimensions: 35.25″L (89.535 cm) x 31″W (78.74 cm) x 7.75″H (19.685 cm) and weighs 23.40 lbs (10.614 kg)

Portable Tetherball Set Images:
[fancy_images width="200″ height="200″]
[image]https://www.swingsetsnashville.com/wp-content/uploads/2013/01/tetherball-set-90029.jpg[/image]
[image]https://www.swingsetsnashville.com/wp-content/uploads/2013/01/Tetherball-set-90029-01.jpg[/image]
[/fancy_images]