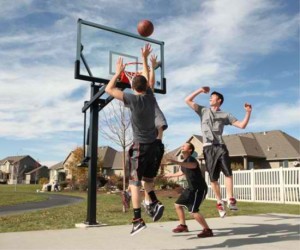 SwingSetsNashville and Backyard Adventures of Middle Tennessee are proud to be a dealer for Lifetime basketball hoops.
Lifetime basketball goals come with some of the best warranties in the game! When you're investing in a basketball goal, you want to be sure they are the best residential basketball systems and goals on the market. Whether you're looking for a residential basketball hoop or a pro-style goal, you can find it at Backyard Adventures of Middle Tennessee.

Mammoth Series InGround Hoops:
Mammoth basketball hoops are Lifetime's most high-end basketball hoops. Our Mammoth basketball hoops have glass backboards for superior rebounding performance. The Mammoth basketball hoops are designed with a professional style that caters to our most enthusiastic basketball players. With Mammoth basketball hoops you just squeeze the trigger to effortlessly adjust the height of the backboard. Designed with a bolt-down pole for convenience in later removal if necessary. Mammoth basketball systems are the best adjustable basketball hoops available on the market today. View our Mammoth Series Basketball Goals and Accessories below.

Mammoth Series Goals and Accessories:
[blog_grid column="3″ showposts="30″ offset="4″ category_in="151″ disable="meta"]
Other In-ground Basketball Goals

What makes in-ground basketball hoops from Lifetime a good choice for your home? Our in-ground basketball systems provide ultimate rigidity and take up less space than portable basketball systems. Afraid an in-ground basketball goal will be too permanent? While in-ground basketball hoops do require cement, they need not be permanent if you use a ground sleeve. Please note that some city ordinances require the use of a ground sleeve with all in-ground basketball hoop installations.

[blog_grid column="3″ showposts="34″ category_in="305″ disable="meta"]