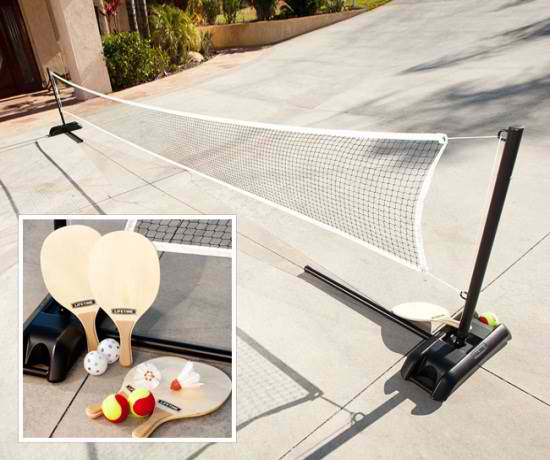 16 Jan

Driveway Game Set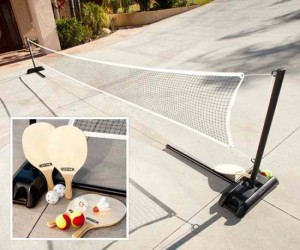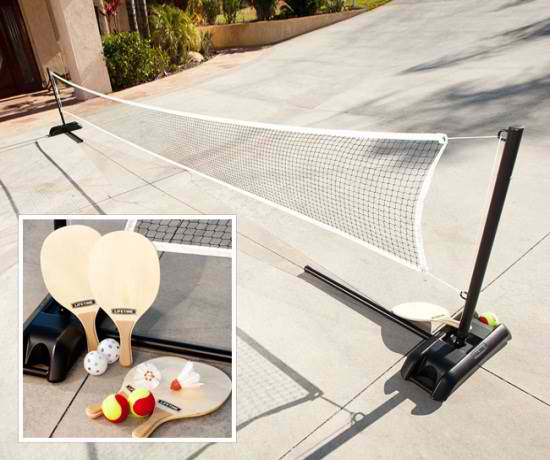 Driveway 3 Sport Game Set by Lifetime
Play tennis, badminton, or pickleball anywhere, anytime, with the Lifetime Driveway 3 Sports Set. This set includes a portable 20 foot heavy-duty net with portable pole bases, 4 wooden paddles, 2 pickleballs, 2 QuickStart Tennis Balls (larger and softer than standard tennis balls), and 2 paddle birdies.
Driveway Game set Video:
Description:
Play Pickleball, Tennis, Badminton, or invent your own games with the Lifetime Driveway sports set. The poles have an easy, telescoping height adjustment feature which allows two different height settings (36 or 61 inches) for a variety of games. The portable pole bases can be filled with sand or water for necessary stability. This portable design makes the set perfect to set up in the driveway, at the beach, the pool or the backyard. Set up is quick and easy and the system is weather protected to last through years of family fun. This Lifetime Driveway Tennis Set comes with 4 wooden paddles, 2 Pickleballs, 2 QuickStart Tennis balls (larger and softer than standard tennis balls), and 2 Paddle Birdies (tennis raquets not included). Two convenient carry bags are included for easy transportation and storage. 1-year limited warranty on poles, bases, and net.
Specifications:
Model: 90421
Net Length: 20 ft. (6.1m)
Net Height Settings: Adjustable to 36 and 61 inches (91.44 and 155cm)
Net Material: Heavy-Duty Polyester
Paddle Dimensions: 8.75 in. x 15.75 in. (22.2cm x 40cm)
Paddle Material: Wood
Base Volume: 1.75 Gallons Each (6.6 liters)
Base Material: High-Density Polyethylene (HDPE)
Pole Diameter: 1.5 in. Dia. (3.8cm)
Pole Material: All-Weather, Powder-Coated Steel
Accessories: 4 Paddles, 2 Pickleballs, 2 QuickStart Tennis Balls, 2 Paddle Birdies
Carry Bags: Includes 2 Bags – One for Poles, One for Accessories
Warranty: 1-Year Limited – Poles, Bases, and Net Only
Driveway Game Set Images:
[fancy_images width="200″ height="200″]
[image]https://www.swingsetsnashville.com/wp-content/uploads/2013/01/Driveway-Game-set-90421.jpg[/image]
[image]https://www.swingsetsnashville.com/wp-content/uploads/2013/01/Driveway-Game-set-90421-01.jpg[/image]
[/fancy_images]