Our Prebuilt Storage Sheds, Barns, and Gazebos are Built by Overholt & Sons.  A family owned and operated business since 1982.    We have a wide variety of  storage sheds, storage barns, lofted barns, country store style buildings, gazebos, play houses, and dog kennels.  All of our buildings  and storage sheds are available in vinyl siding.   We offer a wide variety of options and can customize your building to fit your needs.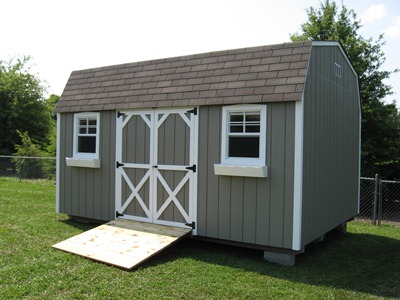 For more information/pricing about our Storage Sheds please check out our website here:  www.shedsnashville.com
Outdoor Poly Furniture
Why poly furniture?
Poly lumber is a durable material that requires no maintenance. Just purchase, and enjoy.   It will not crack, split, rot or splinter, and it will not promote bacterial growth or mildew.   It's termite resistant, and you can choose from a variety of colors that blend with your home's exterior color.
Click here to view our outdoor poly furniture
Many great color options
          Cherry Wood     White           Cedar        Turf Green          Black         Weathered Wood        Tudor Brown
                 Blue*      Tropical Lime Green*    Lemon Yellow*      Bright Red*        Bright Orange*         Pink*
* Please Note: Special order colors add 10%*